In 1929, J.T.Thrasher opened a food stall in Ocean City selling boardwalk fries, which are still among the most popular (french fries) chains in America today. Upon discovering their authenticity, I became intrigued; here's a brief about their story.
Fries made from fresh cut potatoes, deep fried in pure peanut oil, sprinkled with salt and served in a bucket with apple cider vinegar.
Keep reading to find out more!
I've got an amazing side dish or snack that would be perfect: the Boardwalk fries. It's your choice whether you want them crispy or soft. Almost everywhere around the world, they serve as regular fare in diners, fast food chains, taverns, and bars.
Additionally, they are sometimes seasoned with ketchup and vinegar, as well as mayonnaise and other regional delicacies. Let's take a look at how these fries earned their unusual name and learn how to make them at home.
You will find these fries your best appetite companions no matter where you are!
What Are Boardwalk Fries?
French fries are the ancestors of boardwalk fries. Different shapes and sizes of potatoes are used to make French fries. A two-step cooking process is a norm for a competent chef. Once blanched, they're quickly deep-fried to give them a crispy exterior and cook the insides out.
Do you know why it was renamed boardwalk fries instead of French fries? So here we come with this small, yet crucial reason.
Thrashers
The origins of boardwalk fries may be traced all the way back to Ocean City, Maryland's Boardwalk. In a thick paper cup or basket, these fries are served in long, square sticks cut by hand. Rides and the world-famous french fries would be the main attractions for visitors. The line for these fries was so long that some people had to wait for hours. As two brothers named Dave and Fran DiFerdinando Thrasher observed, standing in line for hours to acquire fries was a stressful experience. They launched Boardwalk Friesto franchisees in order to make boardwalk-style fries available to every person in the United States.
World-famous Thrasher fries
This worked, and now you can understand why these french fries are so famous all around the world.
Boardwalk Fresh Burgers And Fries
As time went by, the two brothers had franchises all across the United States. However, with the expansion of business, people's demands also increase. They started to want more. They began to want a burger to go with their well-known boardwalk fries. It could not be just any burger; it had to match their idea of a fresh product. The only way to fix it was to make burgers by hand every morning, so they never were frozen. Thus, this way, fries, burgers, and shakes came into being. And, now, they have become the love of their fans all over the world.
Boardwalk Fries Recipe
Having a bucket full of these fries costs you a little but is genuinely worth spending. However, you can also make the restaurant like fries in your home kitchen.
To prepare this dish, you need all the ingredients and a wonderful recipe. Let's take a look at the nutritional facts before getting into the recipe.
Nutritional Facts
Thrasher fries don't contain cholesterol but are usually high in fat, calories, and sodium. If you include them in your diet, it's smart to consume fries in moderation or use a cooking method that reduces the fat and sodium content.
Calories
The USDA provides nutritional information for one serving (100 grams or roughly 1/2 cup) of fried fresh potato fries.
Calories196
Fat 13.1g
Sodium 141 mg
Carbohydrates 5g
Fiber 1.6g
Sugars 1.3g
Protein 9 g
Ingredients
Two teaspoons of white vinegar
Also, 4 cups (1 liter) of cold water
Then four large fresh Idaho Russet potatoes
Peanut oil for frying
For Serving
Salt
Old bay seasoning( optional)
Apple cider vinegar
How To Make Boardwalk Fries?
Peel the potatoes before preparing them. 

Make small pieces of potatoes by cutting them with a knife or by using a fry cutter. 

Prepare a wide dish of cold water and place the potatoes in it.

Pour the vinegar over the potatoes and stir well. 

For a minimum of one hour, place the bowl in the refrigerator.

You should rotate the potatoes and remove all the water. 

After spreading the potatoes on paper towels, blot them dry with more paper towels.

Using a large, heavy saucepan or deep fryer, heat the peanut oil to 315°F (157°C). 

Line up the paper towels and place the sheet pan on top.
How To Fry The Sliced Potatoes
Slice the potatoes thinly and add them to the hot oil in tiny batches of approximately 2 cups each.
Ideally, potatoes should be cooked for five to seven minutes until they are tender but not browned.
With a mesh strainer or slotted spoon, remove the potatoes from the oil and shake them well to remove the excess oil.
Dispose of excess oil by spreading the potatoes on paper towels.
Slices of potato should be refrigerated and uncovered for at least one hour and up to one day after this time. (At this point, you can also freeze the blanched slices for up to one month in an airtight freezer bag.)
When ready to serve the fries, reheat the oil to 375 degrees Fahrenheit (190 degrees Celsius) and fry for about four minutes until golden and crisp. (Allow frozen potatoes to defrost at room temperature if using. Before cooking, pat dry.)
To remove extra oil from the fries; apply on paper towels. Before dusting the fries with Old Bay, let them stand for one minute.
Serving them hot, preferably in paper cups, with generous amounts of vinegar poured over them is best.
Boardwalk Fries Seasoning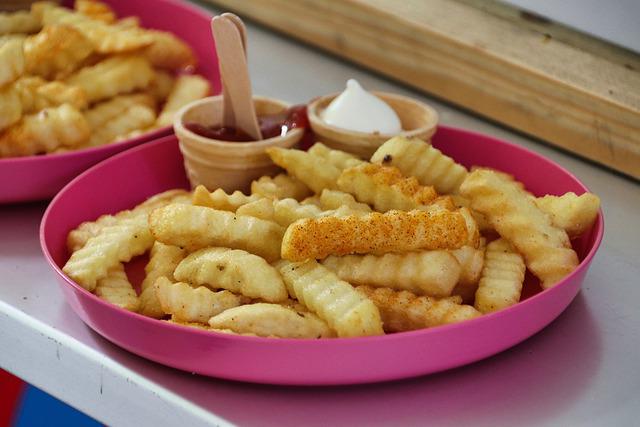 Fries that just came out of the oil are served hot with salt, apple cider vinegar, and, if you want, old bay seasoning. Boardwalk fries vinegar is popular among food lovers. Moreover, you can use many other condiments like malt vinegar and ketchup to season your fries as per your liking.
Boardwalk Fries Five Guys
Forbes says that Five Guys is one of the food chains with the fastest growth, but it is clear that they have not lowered their cooking standards. Let's get to know how they prepare boardwalk-style fries.
First, they wash potatoes and cut them into fries shape.
Next, the starch is washed off the cut potatoes in a three-minute power wash.
Then, they put the cut potatoes into a water-filled bucket to the top.
After that, fry twice: First, precook for two and a half minutes, and the second time after chilling to make them crispy.
They use only quality peanut oil for frying fries. So, a peanut allergy may necessitate special measures when visiting five guys with a group.
See the recipe for easy home cooking
Boardwalk Fries Menu
These are beach-themed counter-serve food chain restaurants offering fries with burgers, salads, shakes, and more. Let's find out how their menu specials.
Ocean City
Boardwalk fries are a staple of Ocean City's famous boardwalk. Fried to a crisp, they're known as "boardwalk fries," typically served with salt and vinegar. It's impossible to go wrong with any of the fries on the boardwalk. Check out some of these renowned fry joints on the boardwalk when you visit.
Boardwalk Fries Specials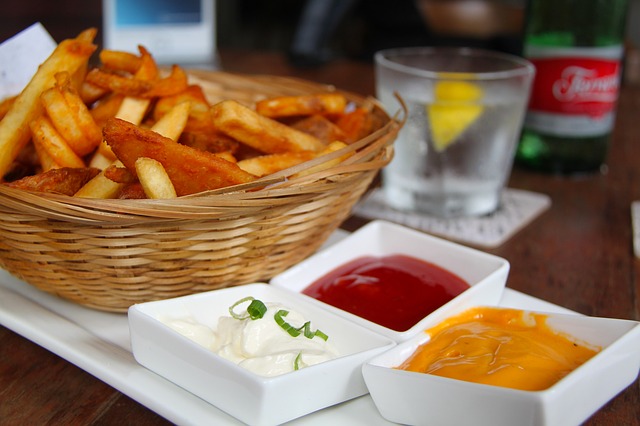 Their specials include ranch, cheddar, garlic sriracha fries, fries with parmesan, and bayoli sauce fries slathered in chili sauce. Some restaurants are also offering day special deals to their regular customers. You can visit and have a hand over these daily special offers.
FAQ
1. How do you make fries in an Airfryer?
If you want a more healthy option, you can use an air fryer. Place the cut potatoes in the air fryer basket in a single layer, leaving a little space between each one. Don't stuff them! The hot air can reach all sides of the fries because there is room for it. This is what makes the fried golden brown and crisp. Air-fry them at 380 degrees for 12 to 15 minutes, turning them halfway through.
2. Boardwalk fries vs. French fries
Boardwalk fries and French fries are prepared by cutting potatoes into even strips, drying them, and frying them, usually in a deep fryer. The basic difference between them is the 'oil' used to fry them. Boardwalk fries are fried only in peanut oil, making them unique from other fries.
3. What happened to boardwalk Fries?
Many restaurants around America provide boardwalk fries. But somehow, many of them are losing their originality. They are sometimes overcooked, which makes the consumers unsatisfied.
In A Nutshell
Boardwalk fries have a long history dating back to the Ocean City, Maryland boardwalk. True boardwalk fries are hand-cut into long, square sticks, served in a paper cup or basket, thick, and tangled. Cooking a nice batch of boardwalk fries requires mastering the cutting, cleaning, and cooking processes that are so important to the flavor of these fries.
Keep an eye out for updates, we've got a few more tasty fries recipes coming up this month. See you, soon!