Best Frozen French Fries: The Most Popular Snacks Around
French fries are something that is loved by everyone. It really does not matter whether you are a child, youngster or an old, French fries are always considered mouthwatering and delicious. Moreover, you may want some remedies to store French fries for long or make the best frozen French fries. This article is going to help you a lot in this regard.
Do you love to eat French fries all the time? Do you want to know how you can cook them easily at home? Well, right here we will be having a comprehensive detailed discussion about how you can cook frozen French fries. Also, we will explain out some hidden secrets to cook healthier and best frozen French fries too! Let's have a look:
Why Should You Prefer Frozen French Fries to the Ones Home-Made?
Choosing the best frozen French fries instead of home-made is very much a difficult selection to talk about. There are good and bad frozen fries. You can select the best one by knowing what kind of oil is used in the preparation of the best frozen French fries. Once you get that, here are some other benefits of choosing frozen fries over homemade ones:
Frozen fries are more convenient to cook than cutting, soaking, and preparing the potatoes at home yourself.
They are available in a wide range of shapes, sizes, flavorings. You can buy the best one suited to your taste.
Frozen fries are easier to store and you can use them from one person serving to cooking an entire packet for the whole family.
They hold their nutritional value longer than the un-frozen ones and don't go bad for a far longer period of time.
The best frozen French fries are crispier and tastier than the ones at home because they are made by professionals using specific tried & tested methods.
Nutrients & Calories in Frozen French Fries
Please note that the table below shows the average nutrient value and calories of frozen French fries of a small serving of 3 pounds (85g).
| | |
| --- | --- |
| Nutrient | Value |
| Calories | 270 |
| Total Carbs | 32g |
| Fiber | 3g |
| Sugar | 0.6g |
| Protein | 3.2g |
| Fat | 14.5g |
Some Thrilling Fast Facts about Potatoes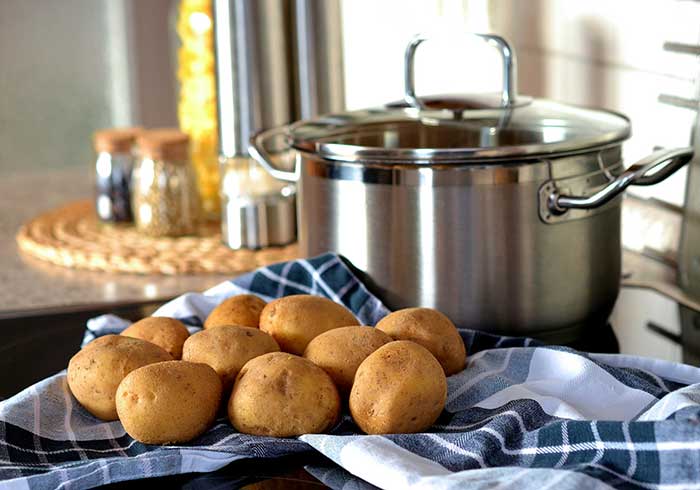 Potatoes, of which the French fries are made, are actually edible tubers available worldwide and all year round. They usually prove very economical, rich in nutrients, and make a very delicious treat.
Besides being an important staple food in many countries, potatoes are now the biggest vegetable crop in the United States. Furthermore, an average American eats almost 55 kg of potatoes mostly in the form of French fries every year.
About 4500 years back, in the Andes in South America, potatoes were domesticated for the first time. Later in the 16th century, Spanish tourists brought them to Europe, and started their cultivation on a large scale.
Being rich in fiber, vitamins, carbohydrates, minerals, and phytochemicals, potatoes or French fries help you a lot to ward off diseases. Moreover, one medium-sized unskinned potato provides almost 264 calories and 6 grams of protein.  Also, it delivers 40% of vitamin C and 30 percent of the vitamin B6 daily intake. Additionally, a potato has more potassium than a banana.
Important Note: The potato skin is an amazing source of nutrients and vitamins, so make sure you don't peel your potatoes before cooking them
Health Benefits of Potatoes
Potatoes contribute a lot towards maintaining a vigorous lifestyle. In addition to preventing osteoporosis and the risk of heart diseases, potatoes offer the following major health benefits.
1. Bone Health
Potato is an amazing food for bone health. It contains high amounts of potassium, plus some iron, zinc, phosphorus, and calcium. Potatoes also contain magnesium which activates vitamin D and promotes calcium absorption for stronger bones.
2. Blood Pressure
Potatoes are a great source of magnesium and potassium. A diet rich in potassium is great for people with high-blood pressure problems.
3. Heart Health
As potassium helps decrease the blood pressure, so the risk of stroke is also lowered. Thus, protecting the heart.
4. Inflammation
A well-known study shows that the consumption of potatoes can reduce inflammation and even reduce DNA damage.
5. Cancer
Potatoes are jam-packed with antioxidants. Antioxidants are important for fighting the free-radicals and help in prevention of cancer.
6. Digestion
The resistant starch and fiber in potatoes improve the digestion and also act as a prebiotic.
7. Weight management
Potatoes are rich in fiber and can keep you full for longer. Thus, helping in weight management and also improving the digestive health.
8. Metabolism
Potatoes, when boiled and cooled down overnight, provide a heavy amount of resistant starch. As a result, regulating the metabolism of the body and providing numerous other benefits.
9. Skin
The antioxidants in potatoes are good for skin health and act as an anti-aging agent by fighting the free radicals.
10. Immunity
The resistant starch along with antioxidants and all the vitamins promotes our immune system and makes it stronger.
How to Cook the Best Frozen French Fries at Home like a Professional!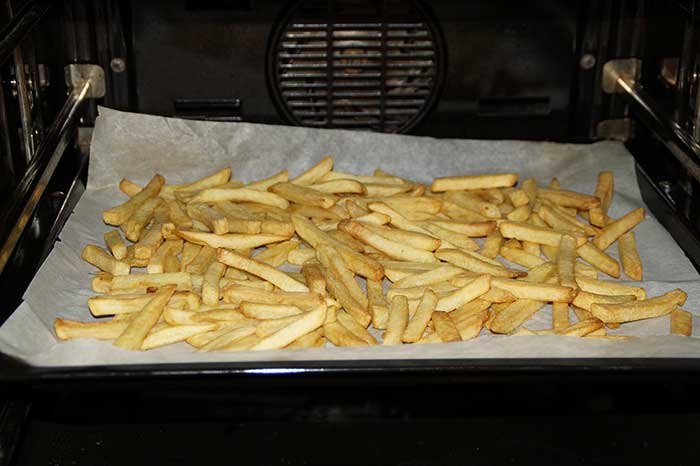 Whether you want creamy steak fries or the crispy shoestring fries with a burger, there is always a chance that the fries won't turn out good. Even the best frozen French fries can taste bland and soggy if not cooked right. So, here are some professional tips that you should try when cooking French fries next time.
Don't Preheat the fries! Preheat the pan!
A common mistake that people make is that they thaw the frozen fries. It is not a good idea to melt the fries completely as it will make them soggy and wet. The best way to make frozen fries is by preheating the pan and then throwing the fries in there. This way, you get crispier and crunchier French fries.
Bake on an Open Oven Rack
If you prefer baking the fries over frying them, well, we support you. Baking indeed is a superior method of cooking the fries than frying as it retains the nutrients. When baking, try to use an open oven rack so the fries cook evenly and hot air can move all around.
If You Want Healthier and Crispier Fries, Try an Air Fryer!
Air frying is indeed way better than the conventional method of frying in oil. This is because oil adds fat and calories to the food. While, an air frier uses hot air to cook the food thoroughly. Furthermore, air frying is the best method to cook frozen French fries as it makes them crispier.
Season Them Hot!
It is best to add the seasoning while the fries are still hot. This promotes the flavor to stick to the French fries. There is a wide array of seasoning options that you can try, some of them are mentioned later in this article.
Don't Leave an Open Bag in the Freezer
This is another common mistake people tend to make. It is best to cook the whole pack of the frozen French fries or use a freezer sealer. If you don't, the fries will get freezer burn by dehydration and oxidation. This happens because the cold and moist air reaches the fries and makes them go bad. Even the best frozen fries won't be able to survive freezer burn.
The Interesting Secrets Behind Healthier French Fries
There is a myth surrounding the best frozen French fries that they are not healthy. Let us reassure you that they ARE indeed healthier than normal fries (due to more resistant starch). However, you can make them even more healthier by making conscious choices. Read on to know the secret to the healthiest frozen French fries.
Always Bake, Never Fry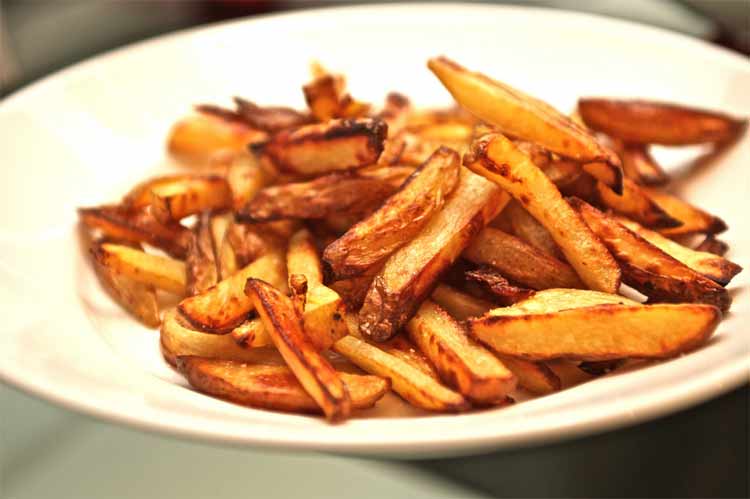 Traditional fries get cooked in an excessive amount of vegetable oil. So, you are surely getting a ton of additional fat and calories in your most loved side dish. It is simple to run over the edge with the oil that contains 120 calories for each tablespoon. For healthy frozen fries, you need to choose healthy olive oil and add two small tablespoons to the fries, season them and hurl them into oven. Bake them at 450-degrees for 20 minutes.
Choose Oil Free
By baking the fries, you will be cutting down the number of calories and fat directly off the bat. But by wiping out the oil altogether, you will be thinning down the fries even more. You need to swap out the oil for a couple of tablespoons of prepared, whisked egg whites or even vegetable soup. Moreover, you should make sure to turn the potatoes intermittently, so the fries cook well and dark-colored on all sides.
Avoid the Salt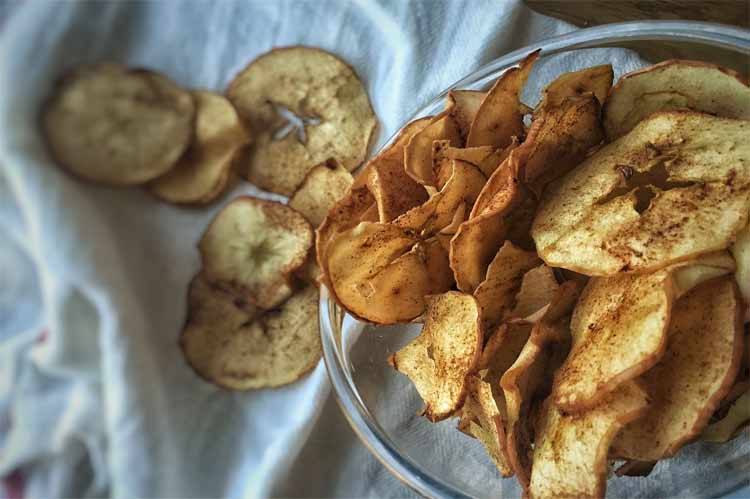 Salt adds too much sodium to our diets. To control the sodium content, we must avoid salt wherever possible. You should rather pick some tasty flavors as seasoning for frozen French fries that pack a punch without including additional sodium. Seasoning like crisp garlic, cumin, or paprika, thyme, and rosemary add a great deal of flavor to fries. Sweeter flavors like cinnamon and nutmeg can work too for the best frozen French fries.
Make your Way to your Roots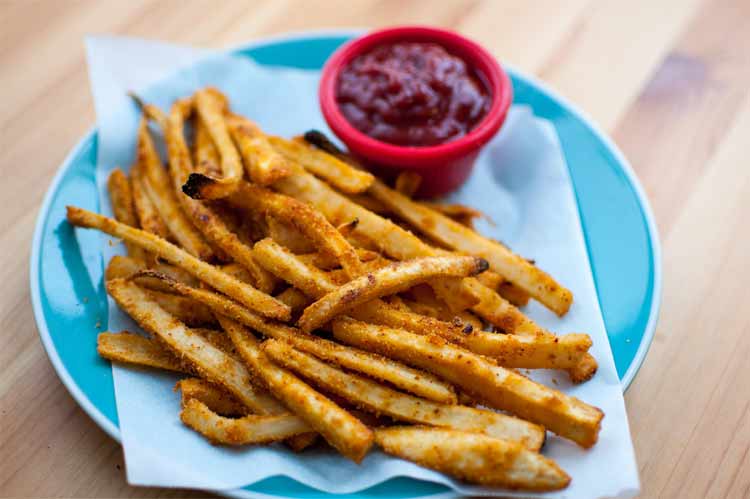 Potatoes are not just the only ingredients that will add spice and delicious flavor to your fries. You can also make fries out of parsnips, rutabagas, turnips, and carrots. They are also high in calories and give a nutritional and healthy boost to your body.
Adding a Taste of Ketchup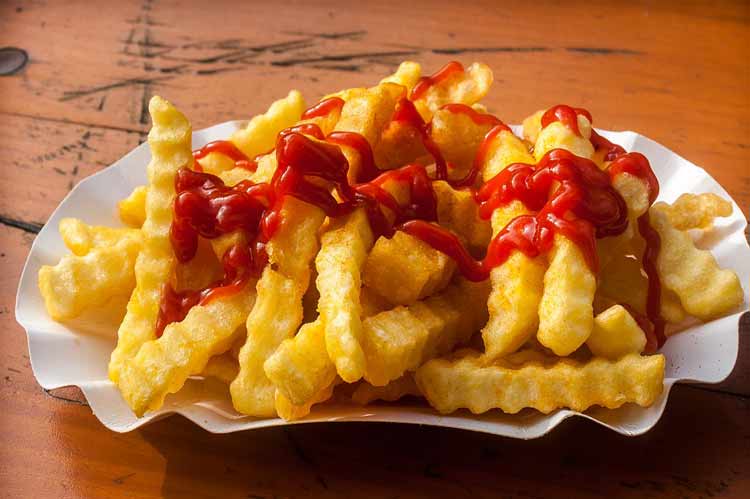 Ketchup is the go-to friend for a serving of fries, the sauce can be a subtle wellspring of calories and sugar. You should select a homemade version of the ketchup to let the sugar stay under control. You can often get innovative with flavors like in this Olive Ketchup formula or can even try blending ketchup with Greek yogurt for a heavenly dropping sauce that eliminates sugar while adding protein.
Food Market Delicious French Fries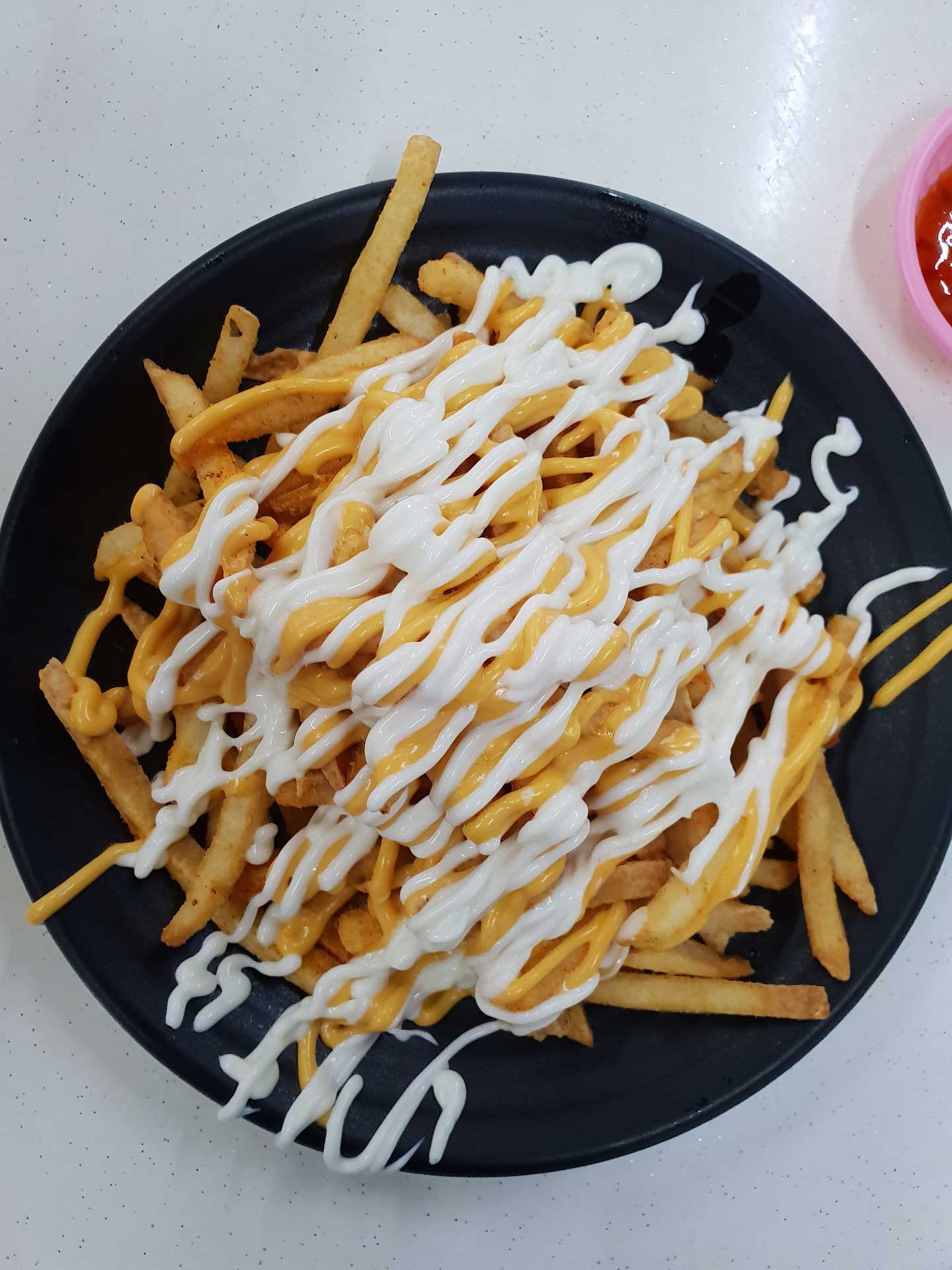 Gone are the days of soggy and tasteless frozen fries. These days, the supermarkets are flooding with frozen fries of all sorts of different ideas and types, it's like we found the holy grail of French fries. There are so many options at a food market to choose from. You can go for the delicious taste of beer cheer fries that completely season themselves in the baking formulation. It consumes the combined taste of sliced pickled jalapenos and also chopped scallions.
Normally kids love to eat French fries as a snack dish in the nighttime or evening meals especially curly fries and waffle fries. Besides, they hold enough nutritional value for the better nutritional growth of your child.
5 Best Picks
It is hard to know which one are the best frozen fries in the market among all these different brands and choices. Well, we tested them and made a list. Here's our list of the best store bought French fries you can get.
Ore-Ida Extra Crispy Fast Food Fries (Shop Here)
These are the crispiest and most flavorful fries on the market. However, these fries compromise the creaminess of the middle for extra crunch.
If you ever wondered how you could make those ultra slim shoestring fries from the restaurant, then wonder no more! These frozen fries give you the same gourmet taste and flavor at home.
McCain Extra Crispy Crinkle Fries (Shop Here)
If you don't like the creamy compromise of Ore-Ida, then these are for you. These are the creamiest and crinkliest fries you can get.
Sweet potatoes are richer in vitamin A and fiber than white potatoes. These Alexia fries make for the healthiest and the best frozen French fries of sweet potatoes.
These are the best curly seasoned fries you can get at home.