Food festivals are the luxurious and recreational entertainments across the globe. Every year, these are traditionally held with all their colorful sights. In every location, however, you will find that the best thing is their food. Also, these popular food festivals around the world are packed with your culinary delights, a range of entertaining activities, and food contests. Moreover, these food festivals come out as heaven for foodies.
Importance of Popular Food Festivals
Food Festivals' major function is to provide a platform for sharing cultural expression of traditional food and also agricultural traditions. They chance people to exchange ideas and, thus, highlight the challenges that native people have to face.
Food Festivals offer many Finger-licking Cuisines
Here are some of the worlds' incredible food festivals that should also be included in the foodie's bucket.
1.  Pizzafest: Popular Food Festivals in Naples
Image Source: Flickr
Pizzafest is well famous as the world's largest celebration of pizza in Naples. No wonder you know pizza was born in Naples. This delicious event is, therefore, held in the city. Hence, Zillions of people get together on this beauty night of September. The village of Naples is ready to prepare more than 100,000 pizzas of various kinds. That's why, in this fair, the most well-known pizzeria from around the globe participates in this contest.
Indeed, Pizzafest is absolutely the perfect event for all pizza lovers. They should run to fill their bellies with these carnivals topping pizzas.
2.  Oktoberfest: The World's Largest Beer Fest in Germany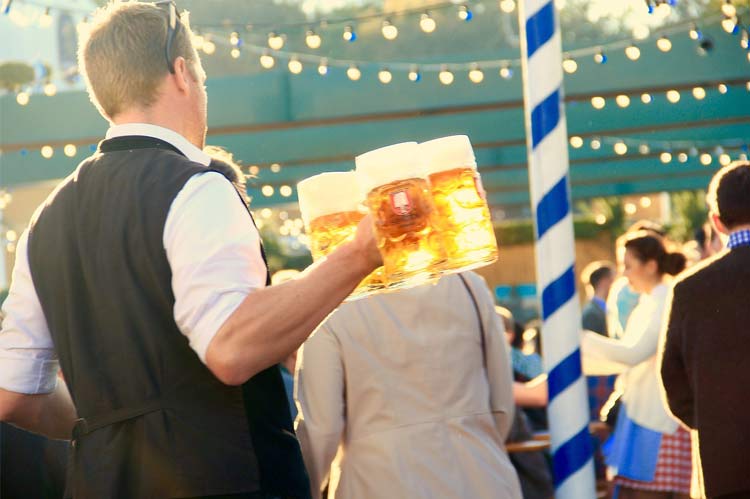 Image Source: Pixabay
Oktoberfest Germany is the world's largest Volksfest. Hence, Germans and beer-lovers around the globe assemble at the fairgrounds of Wiesn. So, they come to celebrate centuries-old Bavarian traditions with millions of litres beer.
The largest tent, Schottenhamel, can accommodate 10,000 people at a time. Besides, Oktoberfest beer is totally 'brewed-in-Munich' only. Therefore, in Munich, 14 permitted brewers can serve beer at Oktoberfest.
Oktoberfest, a pretty good season for foodies, allures you to throw dieting out of the window and, thus, taste the rich Bavarian cuisine.
3.  Hokitika: One of the Most  Popular Foods Festivals
Hokitika, a small town on the West Coast of New Zealand's South Island also holds one of the best food festivals in the world. Moreover, it is held annually, on the second Saturday in March. Also, new wild foods are introduced every year.
These wild foods include:
Wasp larvae ice cream
Ostrich sandwiches
Whitebait
Escargots
Shark and scorpions
A dairy treat for dessert is also colostrums. It is a special milk rich in antibodies and also proteins. Moreover, it is one of the cuisines of the Wildfoods Festivals.
Plenty of entertainments besides foods are also there. These include stage performances by musicians, comedy and also dance act, mimicries of artists, etc.
4.  The Golden Spurtle: World Porridge Making Championship
The World Porridge Making Championship takes place each year in the Scottish Highlands village of Cambridge. Therefore, the Scottish pleasurably celebrates this event in a highly competitive style.
Moreover, the winner of this competition is awarded the coveted Golden Spurtle trophy.
5.  Herring Festival: A Fishing Contest in Hvide Sande
The highly renowned and popular herring fish contest is celebrated in Hvide Sande. Again, the Herring Festival takes place on the last weekend in April. Foodies are also there to enjoy fishing and to taste delicious fish-made cuisines.
6.  Chinchilla Melon Festival: The Melon Capital Of Australia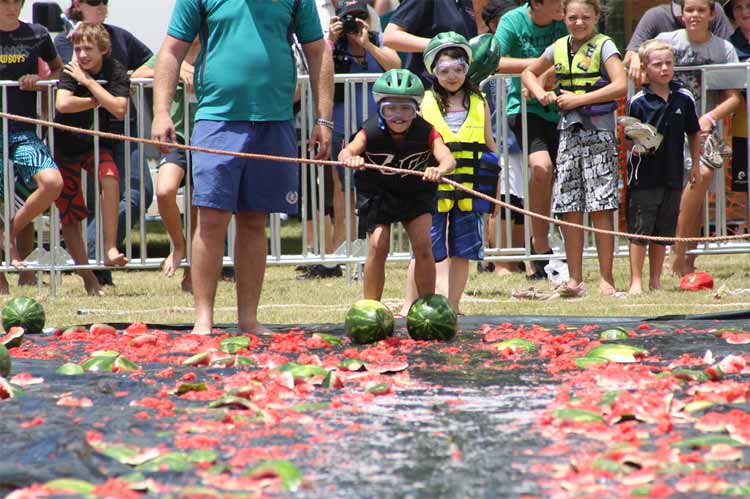 Image Source: Pixabay
Chinchilla is known as the 'Melon city of Australia'. The Melon Festival, a biennial event, fascinates locals and also international tourists who want to enjoy with its exciting activates like melon skiing, celebrity melon eating and melon chariot race.
The Chinchilla Melon Festival is actually based on Melon games which also provide the visitors with the entertainment by offering them many competitive melon-themed contests.
All kith and kin, therefore,  feel no hungry after eating big melons at Melonfest.
7.  Watercress Festival: An Aquatic Plant
Watercress or yellowcress, an aquatic plant, packs itself with nutrients, highly antioxidants. This famous festival, therefore, expects to have 50,000 people who visit annually Alresford in Hampshire.
This food festival has, thus, gained the reputation of the region's biggest food festival over the past decade.
The Festival has many specialities like cookery demonstrations. Food stalls, musical entertainment, food awards for watercress-made unique products are also there. Besides, the chance to visit a real watercress producing field and observe how this amazing crop has miraculously been farmed.
Watercress Soup is one of Britain's delicious cuisines. You can serve hot and cold; it can also be easily cooked. Moreover, it is conventionally and traditionally believed that this herb is a cure for toothache, hiccups and freckles.
8.  Giant Omelet Celebration: Prepared With 10,000 Eggs
A grandiloquent two-day family festival embraces a juried art show, egg games, great Cajun food, and music. The cooking of the 5,000 egg omelette, an art show Dubai Food Festival is glamorously held between February 21 and March 9. The city, in these 17 days, transforms into a foodie haven that chances you to taste mouth-watering and finger-licking dishes of the festival.
The 17-day food festival is one of the favorite and popular food festivals for Bon vivants and gastronomes. The hub of all Innumerable food-related activities is the Beach Canteen.
A foodie experience helps you have an insightful view of the cities food gastronomy.
9.  Venice Food and Wine Festival
Venice, Italy, generously hosts a food and wine festival every year that draws in locals and international food connoisseurs. Chefs all over the world visit the 3-day popular food festivals and offer tips and tricks to make this event more interesting.
The objective JW Marriott's participation in the Venice Food and Wine Festival is to solidify the goodwill of the brand luxuriously. Additionally, it wants to establish awareness in the culinary world that the brand has no parallel.
10.  Vegas Uncork'd: The Grand Tasting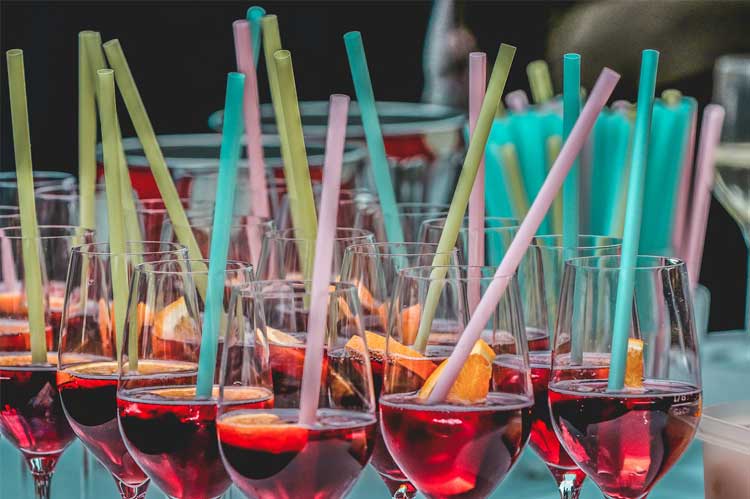 Image Source: Pixabay
The Grand Tasting is the special event of Vegas Uncork'd. Here, over 2500 foodies drop in and enjoy a variety of dishes. Some of the world's most renowned chefs have cooked these fine dishes.
The spacious five-acre Garden of the Gods Pool Oasis at Caesars Palace Las Vegas Hotel & Casino will star more than 50 award-winning chefs. Moreover, over 100 of the leading wines and spirits from the globe are also there.
11.  Food Zurich Festival: Over 100 Food-Related Events
In May, Food Zurich for all food enthusiasts, hobbyist cooks, and chowhounds kick off the summer on a culinary high.
Zurich manages to host over 100 food-related events centred upon food and drink. This 11-day event has everything from fine food to social food and street food. Chefs, food connoisseurs and bloggers are there to entertain the crowds with their newly-made delectable dishes.
12.  The Great Food Festival: The Feast of Kings
The Great Food Festival is glamorously in vogue, living up to its name. It packs itself with delicious flavours, a plethora of finger-licking food insights, and eminent chefs around the globe.
The festival shows the seriousness of the Singaporean about celebrating dessert that promises to satisfy the sweet-tooths.
The Great Food Festivals features four thematic segments:
This segment includes 40 tasty dishes prepared by a star-studded team of international celebrity chefs.
It is one of the Asian dessert and pastry showcases from trendiest bakers and dessert chefs around the globe.
The segment is distinctively for wine connoisseurs. The Cellar sensually offers 6 wine and premium wines, including the RW CLOS DE TART MOMMESIN 2005.
An exuberant celebration of the thematic segment is by eminent chefs in a medieval-style banquet.
13.  Olney Pancake Race: World's Oldest and Popular Food Festivals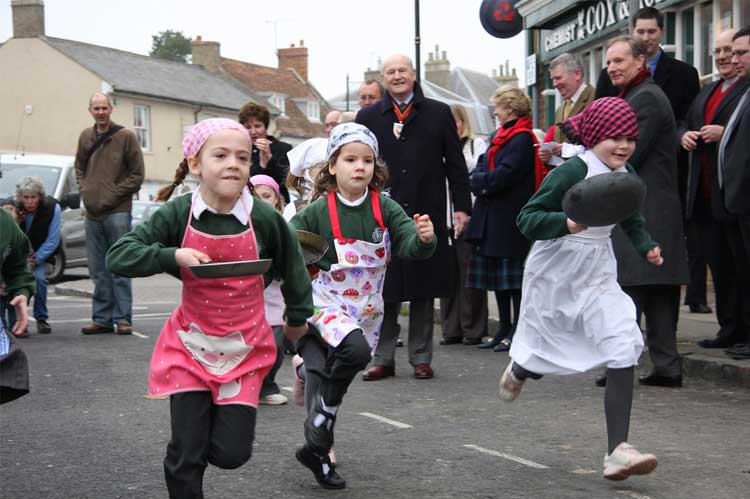 Image Source: Flickr
A pancake race kicked off nearly 600 years ago is still going on strongly in 2019. The Onley Pancake Race is just for housewives and young ladies of the town. 25 participants run a distance of 415 yards from the Onley Market Place to the Parish Church, while dressed as traditional housewives.
The traditional dress includes wearing a skirt, an apron and a Kerchief.
The ladies must carry a frying pan with a pancake in it and must flip the pancake when crossing the finish.
14.  Veggie Fest: North America's Largest Vegetarian Food Festivals
One of North America's unique and the largest vegetarian food festivals features the celebration of veggie food and lifestyle. It includes live music, food vendors, and a variety of speakers.
This is purely a family festival, where all can enjoy the festivities and especially the children can enjoy the plenty of activities.
15.  Dumpling Festival: Diverse Cultures throughout Chicago
World Dumpling Fest celebrates different cultures throughout Chicago. Here,  people enjoy steamy and juicy dumplings. and eat under the hospitality of the Chinese people. The nutrients of Zongzi dumplings are rice with different fillings and they wrap themselves in bamboo, lotus or banana leaves.
10 neighbourhood-based ethnic restaurants, in the making of dumplings, include:
Kesia's Deli
Kamehachi
CAFÉ TOLA Southport
Himmel's
Herb
Friendship Chinese Restaurant
Ethiopian Diamond
Dia De Los Tamales
Sinha Elegant Brazilian Cuisine & Catering
Tryzub Ukrainian Kitchen
Featured Image Source: Maxpixel