This simple cauliflower fried rice recipe makes a low carb dish. This tasty food is a combination of fresh ginger and sesame oil. Cauliflower fried rice is a quick and healthy Asian dinner. It also includes vegetables, onions, garlic, ginger, eggs, soy sauce, and sesame oil.
This is a low-carb, low-calorie and vegetarian dish. You can use cauliflower in so many different ways. These include pizza crust, bread-sticks, mashed potatoes, etc.
Health Benefits of Cauliflower Fried Rice
Cauliflower packs itself with plenty of nutrients.
Cauliflower is a power pack of vitamin C which gives collagen. It also has vitamin k which may prevent bone loss.
Also cauliflower and other vegetables help liver detox.
Cauliflower is one of the healthy diets that can help boost HDL cholesterol levels and lower blood pressure.
Cauliflower strengthen your immune system. It contains choline which can cure gastric diseases.
Some studies discovered that cauliflower and other vegetables have anti-inflammatory properties.
Cauliflower Fried Rice Is Healthy for You
Cauliflower is loaded with B-vitamins and fiber. On top of that it is low in fat, carbs, and calories. Also, Being low carb and low carb dish, it has kept high-carb dishes at an arm's length.
People often love making cauliflowers fried rice chicken when entertaining friends and family' guests. They do so with the combination of other Asian dishes like Asian Beef Skewers.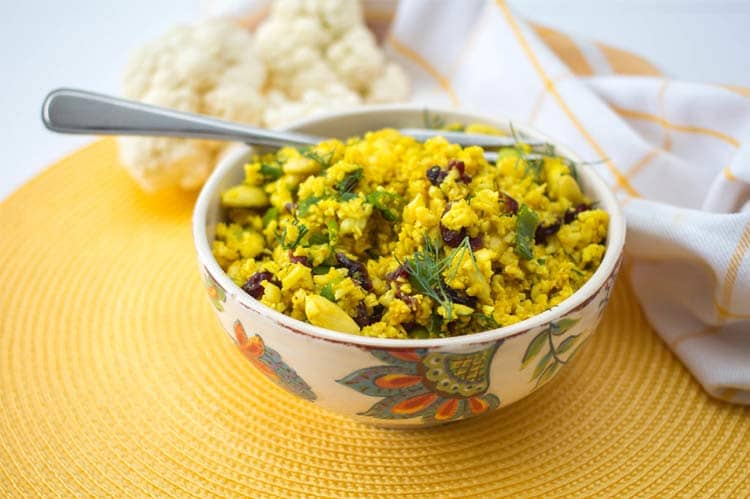 Image Source: Flickr
Ingredients for Cauliflower Fried Rice
Olive oil
2 beaten eggs
Salt as per taste
Also 1 cup chopped onion separated from light and parts
3 minced garlic cloves
A finely chopped spoonful fresh ginger
2 pounds head cauliflower
Also 5 teaspoons soy sauce
¼ teaspoon red pepper
1 teaspoon sugar
1 cup full of frozen peas and carrots
Also 1 teaspoon rice vinegar
1 teaspoon Asian sesame oil
Also ¼ cup chopped cashews or peanuts
Instructions:
Get all the ingredients ready. Once you begin cooking, you need everything in a quick session.
Cauliflower rice: Add the cauliflower to your food processor and beat until it looks like rice.
Sautee: Saute garlic, ginger, and onion in sesame oil.
Fry quickly in hot oil: Add the peas, carrots, and cauliflower rice and stir-fry until the vegetables are sauteed. Then cook together until they set. Once the eggs scramble, stir everything well together.
Cook the eggs well: Add the beaten eggs well in the middle of the vegetable mixture. Scramble all mixture until they all are sauteed and set. Once the eggs are cooked well, stir and then mix well together.
Finishing touches: Saute in the soy sauce with green onions just before serving.
Different Cauliflower Fried Rice Recipes
Here are some finger-licking Cauliflower Recipes:
1.  Coconut
This coconut cauliflower rice:
Is creamy, slightly sweet, and totally rich
Is paleo, vegan, gluten-free, and low carb
Requires just a few minutes of preparation
2.  Turmeric Golden
It packs itself with turmeric, ginger, garlic, and onion.
3.  Sesame Ginger
This sesame ginger cauliflower rice is cooked in sesame oil with fresh ginger. Also, it receives roasted sesame seeds. The sesame ginger flavors of this cauliflower are there with Asian flavors. Besides, this cauliflower rice recipe is a low carb side dish.
4.  Cilantro Lime
Cilantro Lime Cauliflower Rice is a low-carb substitute for rice or pasta. Moreover, it's an easy way to add more vegetables or salads to your diet.
5.  Lemon Garlic
A little lemon really increases the flavor of this roasted cauliflower along with the garlic and fresh parsley. Also, this makes a tasty side dish like potatoes or rice. It is a wonderful blessing if you want to lower your carbs.
6.  Spicy Mexican
Mexican Cauliflower Rice is there with only a few simple things. These include a head of cauliflower, tomatoes, onions, garlic and spices. Moreover, Cauliflower rice load themselves with all Mexican rice flavors without carbs.
7.  Parmesan
It is a very easy dish to cook with a garlic butter sauce and Parmesan cheese. Also, it is a low carb, gluten-free, tasty and easy dish. But, it also goes just well with cauliflower.
Conclusion
An extra serving of vegetables to your diet and a cut-back on carbs with riced cauliflower in this healthy fried rice recipe.
Featured Image Source: Flickr