It can be pretty difficult to agree on a menu but one thing that everyone can eat without fuss is the chicken Alfredo pasta. This creamy mouthwatering pasta not only tastes heavenly but is also full of nutrition. Not to say that it goes well with various other dishes, chicken marsala, for example. Here are some of the best chicken Alfredo pasta recipes that you should try this weekend.
Simple and Easy Chicken Alfredo Pasta Recipes for Everyone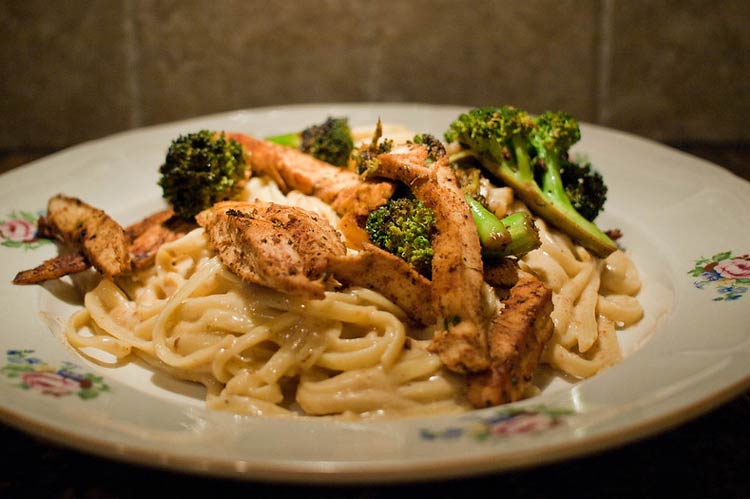 Image Source: Flickr
The most important as well as difficult step in this recipe is how to make the Alfredo sauce. Make sure to focus and follow this recipe to dot.
Ingredients
Fettuccine pasta – 8 ounces
Boneless chicken breast – 1 pound
Parmesan cheese – 1 cup and more for serving
Heavy cream –1 cup
Butter –8 tablespoons (unsalted)
Grated nutmeg – ¼ teaspoon
Canola oil –2 tablespoons
Kosher salt–1 teaspoon
Grounded black pepper – ½ teaspoon
Minced garlic cloves –2
Fresh parsley leaves and olives for serving
How to Cook
Start with boiling water in a large pot, add a little salt and put the dried fettuccine pasta in it. After it has softened, retain about half cup of water in the pot and drain the rest. In a pan, pour some canola oil and sauté the minced garlic cloves until fragrant. Fry the chicken breasts for about 5 to 7 minutes until deep brown. Flip to the other side to make it deep brown as well. You can use a laser thermometer to check if the internal temperature of the chicken breasts is 165° F or not.
After the chicken has been fried, cut it into bite-size stripes. Simultaneously, prepare the Alfredo sauce by melting 2 tablespoons of unsalted butter in a pan. Whisk in Parmesan cheese, heavy cream, nutmeg in the pan and add salt and pepper. Simmer for about 4 to 5 minutes until the sauce is thick and creamy. Toss the sliced chicken breast and drained pasta into the sauce. Serve with parsley leaves and chopped olives.
Penne Chicken Alfredo Pasta Recipe for a Change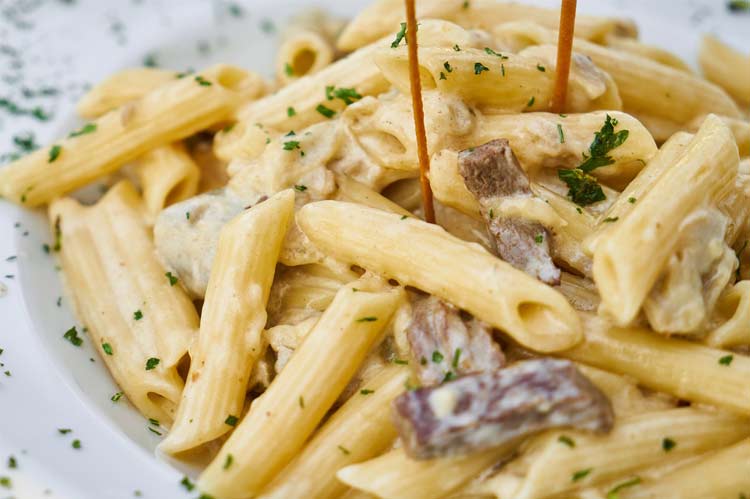 Image Source: Needpix
You can also cook Penne pasta in Alfredo sauce, however the recipe differs a little bit.
Ingredients
Penne pasta – 16 ounces
Chicken breast –1 ½ pound (sliced or cubed)
Flour – 3 tablespoons
Milk – 2 cups
Butter and Parmesan cheese–2 tablespoons
Oil– 2 tablespoons
Garlic – 2 cloves
Dried oregano – half teaspoon
Dried Basil – half teaspoon
Salt and Pepper – to taste
How to Cook
Prepare the pasta and chicken breast in the same way as mentioned above. For the sauce, heat some butter in a pan and add the garlic cloves until golden brown. Stir half of the flour into the pan until completely mixed. Add the rest of the flour too. Start pouring a little milk with 5 seconds interval and stir well until all the milk is added. Keep stirring until the sauce thickens. Add Parmesan cheese, salt, pepper, basil and oregano to the mixture. The sauce is ready. Toss the Penne pasta and chicken in it and serve.
Gluten Free Alfredo Pasta Recipe for Vegetarians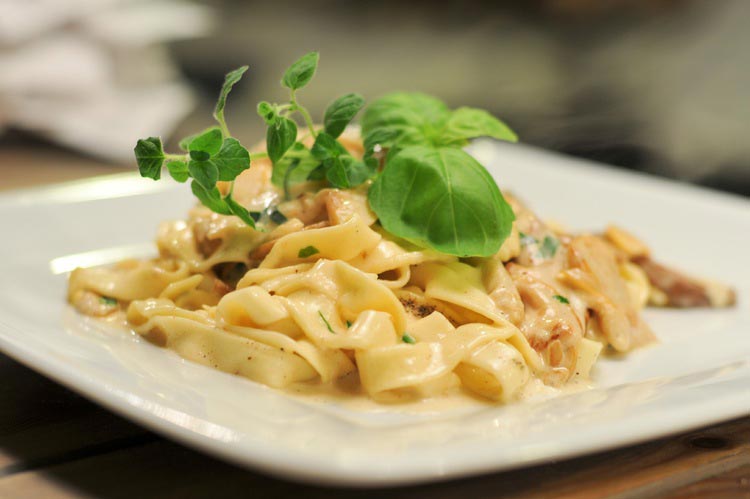 Image Source: Pxhere
Vegetarians can also enjoy Alfredo pasta. The recipe doesn't contain chicken and is replaced by vegetables. It is best enjoyed with a fruit salad in summers.
Ingredients
Pasta – 14 ounces
Also, Olive oil and butter – 2 tablespoons
Parmesan cheese – 1 cup (shredded)
Then Spinach – 12 ounces
Tomatoes–10 ounces
All purpose flour– 3 tablespoons
Also, Fat free milk–1 cup
Italian seasoning–2 teaspoons
Chopped onion – 1 small
Then Minced garlic –2 cloves
How to Cook
In a pan, add half of the olive oil with onions and garlic. Stir until golden brown over low heat. In another pan, melt butter and stir in the flour until it turns brown. Then slowly pour a little milk into the pan and incorporate it well. Keep pouring until all the milk is added and the sauce is creamy and thick. Add Parmesan cheese, spinach, tomatoes, salt, pepper and the onion garlic mixture into this. Cook for 3 to 4 minutes and then pour Italian and vegetable seasoning over it. Toss in the pasta to coat and then enjoy it to your relish.
Featured Image Source: Pixabay