We all know that Beef is a vital source of protein. We hope that our hearty beef stew recipe for a full protein diet will surely add more flavor to your daily cuisine and definitely some meat to your bones. Below we have described simple starter recipes for beef stew which is a good source of protein.
Home-Made Hearty Beef Stew
Total time: 6 h 20 min
Preparation time: 20 min
Cooking time: 6 h
Makes for four persons
Ingredients
1 pound cube of stew meat beef
¼ cup all-purpose flour
1 tablespoon paprika
Salt and pepper to taste
2 cups beef broth
1 ½ tablespoon teriyaki sauce
Also, 1 onion chopped
3 carrots sliced
1 sliced celery stalk
2 potatoes cut into cubes
Also, ½ pound mushrooms sliced in quartered
2 cloves garlic minced
1 bay leaf
Preparatory Method
In a small bowl mix the flour, paprika, salt, and pepper. Then sprinkle this mixture on the beef stew meat in the form of a thin coat.
Place the beef stew meat into a slow cooker on medium heat.
Then Stir teriyaki sauce and the vegetables; onions, carrots, mushrooms, potatoes, garlic, and bay leaves in the beef broth and add them to the cooker.
Cover and cook on low flame for 6 hours or till beef is tender with occasional stirring.
Afterward, serve hot with bread or dinner rolls as you like it.
What To Cook Along With Beef Recipe? 
1. Dumplings
Total time: 3h 40 min
Preparation time: 30 min
Cooking time: 3 h 40 min
Serves: 8 persons
Ingredients
1 tablespoon extra-virgin olive oil
1 onion chopped coarsely
2 pounds of beef stew meat cut into cubes
2 teaspoons of steak seasonings
Also, 2 celery stalk cut sliced into 4 pieces
2 cups water or beef broth (for a stronger flavor)
4 packets of dry brown gravy mix
4 cups water or beef broth (for a stronger flavor)
Also, 1 small turnip peeled and sliced into quarters
4 carrots peeled and sliced into quarters
7 potatoes peeled and quartered
1 ½ cups all-purpose flour
2 teaspoons baking powder
¾ teaspoon salt
3 tablespoon shortening
Also ¾ cup milk
Preparation Method
Recipe
Heat the olive oil in a large pot over medium-high heat until the oil is sparkling hot. Then add the chopped onion and beef cubes to the hot oil. Afterward, add 1 teaspoon of steak seasoning sprinkling over them, and stir them well until mix. Then 1 more teaspoon of steak seasoning and stir again. Add the celery and cook for 10 minutes with occasional stirring until the meat is browned.
Now pour 2 cups of water/broth to cover the meat, onion, and celery and bring it to a boil, stirring and scraping the brown bits of seasoning from the bottom of the pot occasionally. Cover and on reduced heat cook for about 2 hours until the meat is tender. Afterward, remove the meat and celery from the pan and set them aside.
Then in a bowl whip the gravy mix with 4 cups of water/broth and add in the pot and bring it to a boil. Now add the meat back in the pot and add turnips and carrots too. Cover the pot and cook for 20 minutes. Then add potatoes and cook for 20 minutes more.
Dumplings
Mix the flour, baking powder, and salt in a bowl.
Add the shortenings into the mixture with pastry cutters and knives and mix until the mixture looks crumbly.
Now add milk and knead the mixture to form a dough.
Then remove approximately 2-3 cups of gravy from the pot and set aside.
Drop the dumplings into the pot of gravy by heaping tablespoons full of dough onto the gravy pot.
Also cover and cook for 20 minutes more and don't open it for 20 minutes.
Then add the gravy you took earlier back into the pot. Stir the gravy lightly and serve hot.
2. Family Stew
Total time: 3 hours
Serves: 4 persons
Ingredients
1 pound of stew beef cut into 1-inch cubes
¼ cup of all-purpose flour
½ teaspoon of freshly ground pepper
5 teaspoons of olive oil
2 tablespoons of red vinegar
 1 cup red wine
4 cups beef broth
3 bay leaves
1 medium onion peeled and chopped
4 medium chopped carrots
4 large potatoes cut into 4 pieces
Salt (to taste)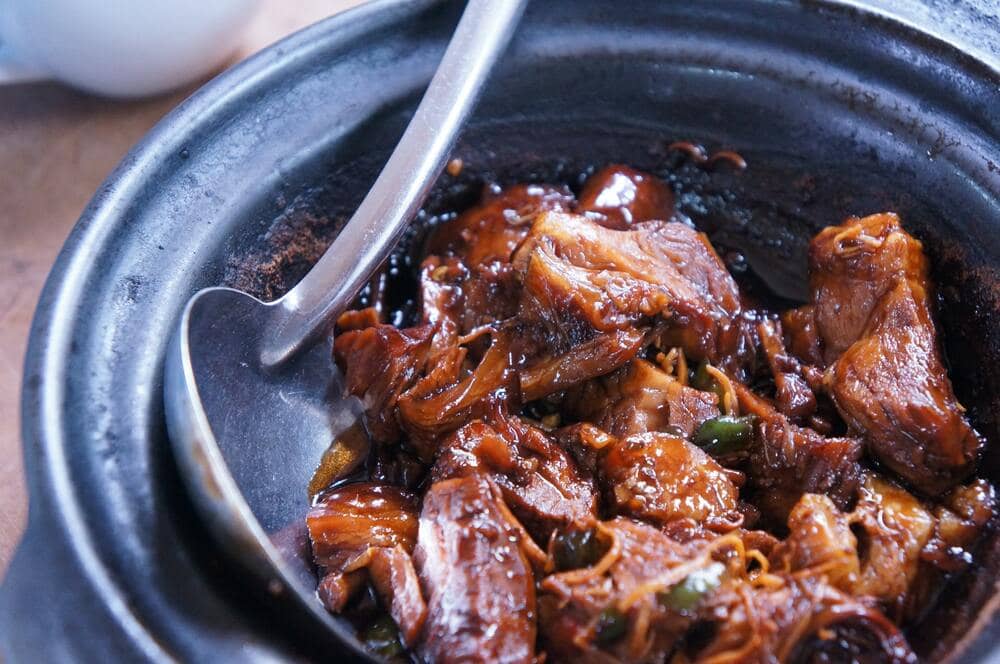 Preparation Method 
Combine flour and pepper in a bowl and coat well the pieces of beef. Heat oil in a pot and fry the beef pieces in a batch. Until browned on all sides and set aside.
In the same pan add the vinegar and wine. Bring it to a boil and keep stirring in order to avoid brown bits. Add beef, beef broth, bay leaves, and cook on high flame until boil.
Reduce heat and cover with a lid for 1 ½ hour. If the meat gets tender more than half add onion and carrot and simmer for 10 minutes. Add potatoes, cover the pot and let vegetables tender for 30 minutes. You may add broth or water if the stew is dry.
Season with salt and pepper to taste.
3. Try Mixing Into Peas
Total time: 2 hours
Preparation time: 15 minutes
Serving: 8 persons
Ingredients
2 pounds of stew beef cut into 1-inch cubes
4 tablespoons vegetable oil
1 tablespoon extra-virgin olive oil (for seasoning)
1 onion chopped
2 medium carrots peeled and cut into round
2 stalks of celery chopped
Kosher salt to taste
Black pepper freshly ground
3 minced garlic cloves
4 tomatoes, pasted
6 cups beef broth
2 cup red wine
1 tablespoon Worcestershire sauce
1 tablespoon thyme leaves
3 bay leaves
1 pound baby potatoes cut in half
1/4th cup chopped parsley (for garnish)
1 cup fresh/frozen peas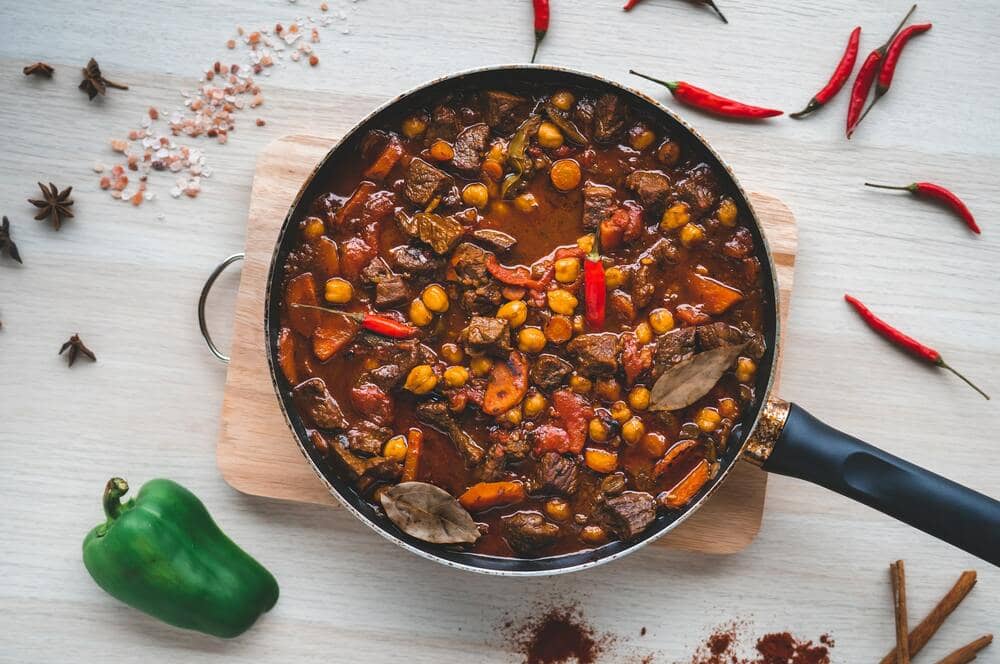 Preparation Method 
First of all, in a heavy bottom pot heat oil and seared beef pieces from all sides on medium heat and set aside. Secondly, cook onion, celery, and carrots until soft. Add salt and pepper garlic and tomato paste and cook for 2 minutes until tomato paste has thickened. Add beef, broth, Worcestershire sauce, wine, bay leaves, and thyme. Bring it to boil, add salt and pepper. Reduce heat to a simmer and cover it. Let it simmer for 1 hour until beef is tender. Remove bay leaves, and add potatoes, and cover. Let potatoes tender for 15 minutes. Add peas let it tender too for 5 minutes. Turn off the heat and garnish with parsley before serving and enjoy the hearty beef stew recipe.
Feature Image: Unsplash