What about some roasted red pepper and lentil soup for the upcoming cooler months? This soup is a recipe from my father (moderate) with a tiny bite that warms the body wonderfully. If you want to make this dish vegetarian, search for vegetarian alternatives to chicken stock here.

A Must Try Lentil Soup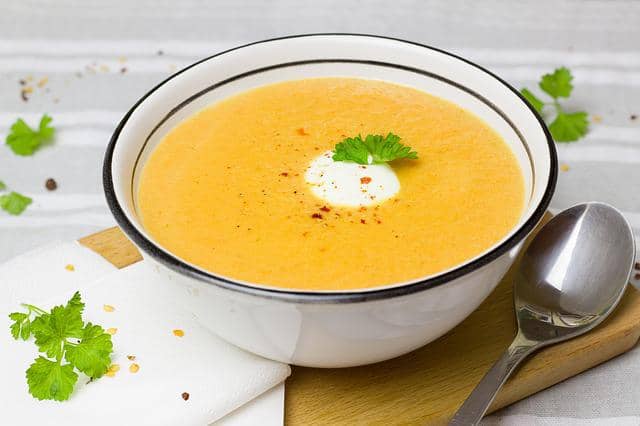 Ingredients 
1 Tablespoon of olive oil (15mL)
Also, 1 large diced onion (See how to use sliced onions)
3 shallots, diced
4 cloves of garlic chopped
1 carrot, roughly chopped
Also, 2 cups of Lentils (475 mL)
8 cups of chicken stock (1.8 L)
1 ham hock (optional)
2 red bell peppers (more information ), roasted and pureed
Also, 1 jalapeño pepper, roasted and pureed
Pinch of curry powder
1 teaspoon of ground cumin (5mL)
Also, 1 tablespoon of Cayenne or Chile Sauce to taste (15mL)
Salt and freshly ground pepper to taste
Directions
In a large stockpot, heat the olive oil over high temperatures until it's hot.
Then add the onions (To learn more about onions, click here), shallots, and garlic.
Sauté for about 2 to 3 minutes until they begin to give off their own aroma.
From there, add the carrots, celery, and lentils.
Mix to coat the lentils in olive oil.
Then add the chicken stock and the ham hock (optional) and simmer for about 20 minutes until the lentils are tender.
Once that is done, you want to add the pureed red and jalapeño peppers to the soup.
Add the curry, the cumin, and the cayenne (or Chile) sauce.
Season with salt and pepper.
Check out our guide to thickening soup (gumbo) if you're interested!
If you added the ham hock, remove it and discard it, or you can pull the meat from the bone, chop it, and add it to the soup.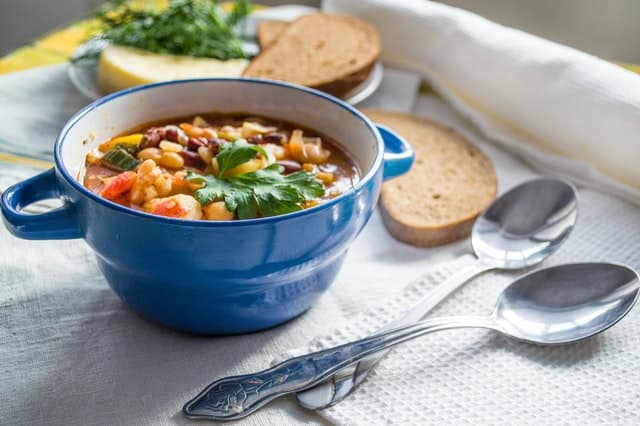 Bring the soup to just a boil, and then serve!
Enjoy an unusual side dish with your soup: It's called hot fries
TIP:  For a smooth consistency for the soup, process the soup in a food processor, run through a sieve, and bring to a boil.
Feature image: Pixabay
Also read: