Easy Pizza Sauce Recipes
In some households, pizza holds the position of staple food when it comes to meals. Sure, you can buy any variety of pizza from the market but there's something special about making it at home. In houses, where it is eaten frequently, moms are looking for ways to make pizza healthier. Furthermore, it is no secret how pizza and other junk foods are harmful to the body, but who can resist them when they taste so yummy? But don't worry, here are some pizza sauce recipes that are not only healthy but also taste great.
The Easiest Pizza Sauce Recipes on the Planet
If you are a working mom who doesn't have time to go at lengths to make pizza sauce, here is the easiest recipe on the planet. By following this, you can prepare pizza sauce in under five minutes. Besides, you don't need to cook it for hours, just mix the ingredients and it's ready to top your pizza.
Ingredients
Tomato Paste – 6 ounces
Tomato sauce – 15 ounces
Garlic powder – ½ teaspoon
Onion powder – ½ teaspoon
Garlic salt – ½ tablespoon
Oregano – to taste
Italian seasoning – 2 tablespoons
Black pepper – ¼ teaspoon
Sugar – 1 teaspoon
Recipe
Mix tomato paste and tomato sauce in a bowl and mix until all the lumps are uniformly distributed. Add in all the other ingredients which are garlic powder, onion powder, garlic salt, oregano, black pepper, sugar and Italian seasoning in the bowl. moreover, mix it well and your pizza sauce is ready.
Homemade Pizza Sauce Recipes for this Summer
As far as pizzas go, we all know that the sauce can make or break the deal. Since all pizza sauces taste different, it is really difficult to find one to your liking. However, we're sure that you'll love this homemade pizza sauce recipe. Besides, it's perfect for summer season parties and can be prepared in an hour or two.
Ingredients
Canned tomato sauce – 8 ounces
Canned tomato paste – 6 ounces
Olive oil – 2 tablespoons
Butter – 1 tablespoon
Parmesan cheese – 2 tablespoons (grated)
Chopped onion – ¼ cup
Garlic clove – 1 (minced)
Chopped celery – ¼ cup
Salt – 1/2 teaspoon
Sugar – ½ teaspoon
Dried Basil – 1 teaspoon
Dried oregano – 1 teaspoon
Fennel seed – 1 teaspoon
Bay leaf  1
Recipe
Melt butter and oil in a large skillet or pan and add onion, celery, and garlic in it. Make sure you don't fry them, instead saute by covering them with bay leaf. Wait until they are soft and transparent. In a separate bowl, mix tomato sauce and tomato pastes until it is mixed equally. Then add this mixture to the skillet on low heat. Include the remaining ingredients into the mixture, that is salt, pepper, cheese, sugar, dried basil, oregano, and fennel seed. Simmer the sauce for at least thirty minutes and at maximum one hour, depending on the flavor and consistency you want. Turn off the heat and spread it on your pizza dough. Moreover, you can also let it cool and store it in a jar for future use.
Traditional Italian Sauce to take your Game to another Level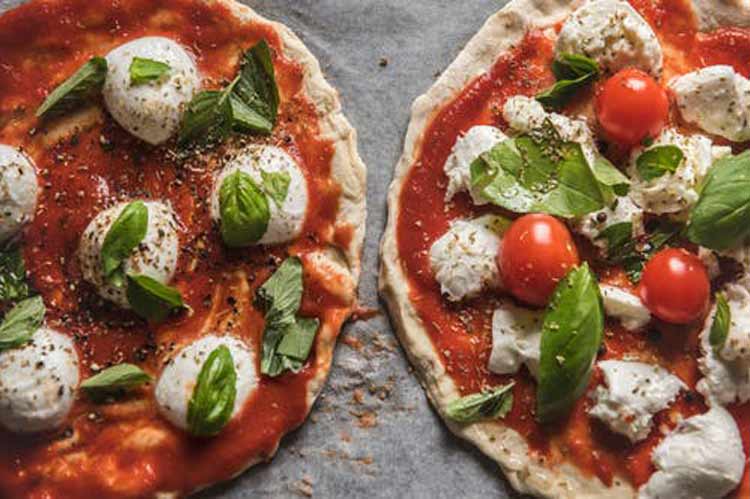 Pizza sauces are all good but if it is Italian, it's even better. It takes a bit of time and practice, but if you perfect this recipe, no one will have any complaints about the pizza you cook. Besides, make sure to follow this recipe accurately if you want a traditional Italian pizza sauce as a result. Otherwise, it'll just be another homemade pizza sauce with some variation.
Ingredients
Chicken bouillon powder – 1 tablespoon
Red wine – ½ cup
Diced tomatoes – 1 can (small)
Crushed tomatoes – 1 can (large)
Stewed tomatoes – 2 cans (large)
Italian seasoning – ½ teaspoon
White sugar – 1 tablespoon
Onion – 1 (minced)
Garlic cloves – 2 (crushed)
Green pepper – 1 (finely chopped)
Black pepper – ½ teaspoon
Oregano – ½ teaspoon
Basil – ½ teaspoon (grounded)
Recipe
Blend the crushed tomatoes and stewed tomatoes in the blender. Take this puree out and transfer it into a cooking pot. Then add red wine to the puree and stir well. Mix in garlic, sugar, and chicken bouillon powder as well as the seasonings, that is salt, pepper, basil, oregano, and Italian seasoning. Put this mixture on the stove and cook for at least fifteen minutes on low heat. Make sure all the flavors are well blended before adding the rest of the ingredients. Chopped onions and green peppers will give your sauce more texture but don't forget to cook this mixture on low heat simultaneously. If you want even more texture, drain the canned diced tomatoes and put them in the sauce. Then turn the heat off and your traditional Italian pizza sauce recipe is accomplished successfully.
BBQ Sauce you Need to Try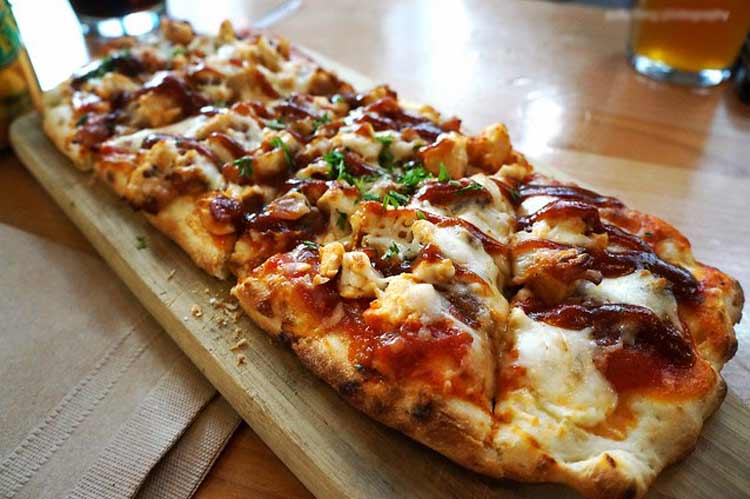 One way to make your pizza sauce a stellar is to include barbeque elements in it. Because nothing is better than pizza sauce and BBQ sauce combined, here is an easy recipe for you to try and see how delicious it is firsthand.
Ingredients
Olive oil – 2 tablespoons
Tomato sauce – 28 ounces
Tomato paste – 3 tablespoons
Red pepper flakes – ¼ teaspoon
Onion – 1 small (chopped)
Garlic – 2 cloves (minced)
Honey – ¼ cup
Molasses – 2 tablespoons
Yellow mustard – 2 teaspoons
Apple cider vinegar – ¼ cup
Worcestershire sauce – 2 teaspoons
Salt and pepper – to taste
Oregano – ½ teaspoon (dried)
Recipe
Pour oil into a saucepan and add onions to it. Cook for about five minutes over medium heat until they are soft and transparent. Add garlic and red pepper flakes to the pan and cook for about thirty seconds or one minute until fragrant. Add the rest of the ingredients to the pan, such as tomato sauce, tomato paste, honey, apple cider vinegar, Worcestershire sauce, oregano, brown sugar, mustard, and molasses. Next in this pizza sauce recipe, simmer for about 20 minutes over low heat until the mixture is thick. Stir occasionally. You can use a blender to make the puree even smoother as well. You can use it over pizza or eat it with barbeque.
How to Make Pizza Sauce from Fresh Tomatoes
All the above-mentioned recipes use canned tomatoes to make the sauce. However, if you want to treat your family to something healthy, you can use fresh tomatoes as well. Anyways, here is a short and healthy recipe on how to make pizza sauce from fresh tomatoes.
Ingredients
Fresh tomatoes – 20 (medium)
Onion – 1 large (chopped)
Garlic – 5 cloves
Red bell pepper – 1 (chopped)
Sea salt – to taste
Dried parsley – ½ teaspoon
Oregano – ½ tablespoon
Basil – ½ teaspoon
Rosemary – to taste
Olive oil – 2 tablespoons
Recipe
Chop the fresh tomatoes into big pieces, preferably four quarters per tomato. Then, include the chopped onions and garlic in a pot with the chopped tomatoes. Mix in the remaining ingredients which are red pepper, oregano, basil, rosemary, sea salt, olive oil and parsley. Stir the mixture well until all the tomatoes are coated with the seasoning. Preheat the oven at 400°F and put the fresh tomatoes mixture in it. Roast until brown and crisp at the edges. Then take the mixture out and blend it in a blender for about thirty seconds until it forms a smooth puree. Besides, you can use red wine to thin the sauce if it is too thick.
Featured Image Source: Pexels