This tendering, fall-apart chicken piccata is an outstanding treat, becoming the talk of the town. A MUST try chicken piccata cheesecake factory family oriented recipe full of flavor and always a hit at dinner table. The deep vibrant recipe is made with lemony chicken breast, cooked until a delicious golden brown, with a creamy and rich flavorful sauce. In fact, this recipe has some unique healthy options and diversity in flavor worth exploring!
Chicken piccata cheesecake factory will fast become your go-to recipe. Not only is it quick but also easy to make, taking only about five minutes for preparing. Add in twenty-five minutes to cook, and you have a delicious dinner on your table under just thirty minutes.
Nutrient Fact 
Calories: 641    –    Carbohydrates: 41.6g    –    Protein: 24.4g    –    Fat: 41.5g
Serving Size
This recipe of chicken piccata cheesecake factory serves only about 2 people, but you can definitely double or triple it to serve more.
Temperature
Cook the chicken pieces on medium to low heat, until crispy and golden brown. In a similar fashion, sauté the mushrooms and capers until soft on medium heat.
Why It Is Called Copycat Chicken Piccata Cheesecake Factory
This recipe is called as copycat chicken piccata cheesecake factory because it is a rendition of the dish served at the cheesecake factory; a restaurant founded in the United States in 1978.
What Makes Chicken Piccata, A Well-Done Dish?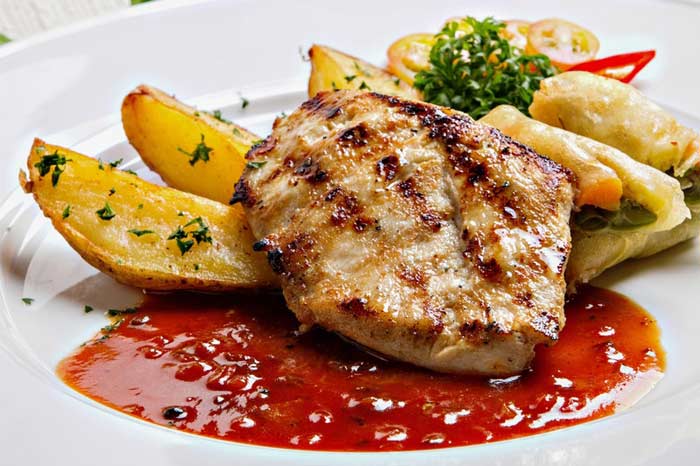 The lightly seasoned meat along with the thick and creamy sauce is the game-changer of this recipe. The tangy lemon enhances the already flavorful jam-packed dish, and the sautéed shrooms and capers bring the meal to a nice closure, making the chicken piccata a well-done dish.
Ingredients (Quantity)                                               
2 chicken breast pieces
Salt to taste
Black pepper
Butter
Vegetable oil
½ cup mushrooms
¼ chicken broth
1 tbs lemon juice
3 tsp capers
2 tbs heavy cream
Al-dente pasta of choice, preferably angel hair pasta
Most Popular dish, checkout! 
Method To Prepare Chicken Piccata Cheesecake Factory?
Step 1 – Start by pounding the chicken breast pieces until thin. Sprinkle a bit of salt and pepper on both sides of the meat. Rub the seasoning in well.
Step 2– Heat a pan under medium heat. Shallow fry the chicken pieces one by one, until crispy and a beautiful golden brown on both sides.
Step 3 – Now put aside the chicken – add in sliced mushrooms, butter, and sprinkle in some salt to the pan.
Step 4 – Once the mushrooms have cooked down, take them out and add in the chicken broth. Squeeze the juice of half a lemon and add a dash of butter into the mix. Add in the heavy cream and capers. Mix well, until the creamy sauce begins to thicken.
Step 5 – Add in the cooked chicken pieces as well as the mushrooms back to the sauce mixture. Sprinkle in some chopped herbs like coriander or parsley.
Step 6 – Plate a serving of the pasta and pour over the savory and creamy sauce. Shred some cheese if so desired, and your chicken piccata cheesecake factory is ready to be served!
Is There Any Variety Chicken Piccata Cheesecake Factory
You can totally change up the ingredients to suit your taste. Some recipes do not call for mushrooms, or heavy cream so you can skip on that and instead make a lemon-glazed chicken piccata. You can also dunk the chicken breast in some all-purpose flour to get that extra crisp and knock your piccata up a level.
Side Drinks
Italian Shakerato
Mint Margarita
Sparkling lemon water
Coke
Can I Make It Into A Healthier Option?
If you want to take the healthier route, then you can skip on the heavy cream. Alternatively, you can air fry chicken, mushrooms, and capers to reduce the oil intake (replace it with olive oil).