Get the best tips on how to make fried fish bites in under 30 minutes. We have reeled into some incredible inspiration for the freshest and the best fish for our fried recipe. Explore Alaskan salmon, Haddock, Perch, Cod, Herring, or Rainbow trout (the healthiest and super delicious of fish categories), as a whole fantastically stuffed, brilliantly steam fried or steak in fillet or sides pieces. Read more about seafood recipes.

There are literally hundreds of shops that serve fried fish bites. However, nothing compares to homemade hygienic food. So, why not make this mouth-watering dish at home. After all, you want to be a supermom to your kids, don't you?
What Is The Best Fish To Eat?
To make fish and chips you need thick white fish slices. You can take the following types of fish:
Cod
Haddock
Pollock
Tilapia
Salmon
Mackerel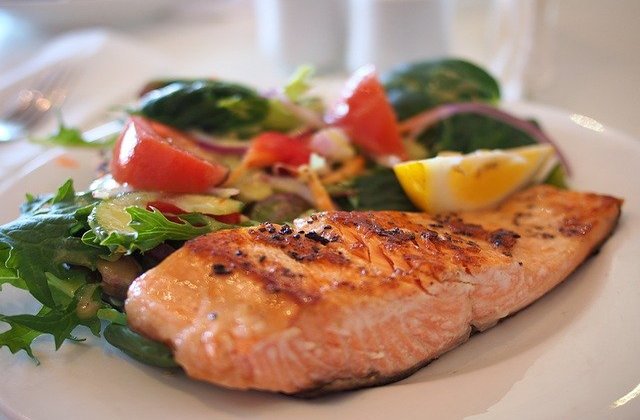 What Are The Nutrients?
Fish is a rich as well as a healthy source of protein. It further contains omega-3 fatty acids as well as vitamin D and B2.
Potatoes extremely perfect combination with fried fish bites. A classic side dish which has a sufficient amount of vitamins, minerals, and antioxidants. A must-try recipe deep fried baked potato. Moreover, oil used for frying adds lipids to the dish. Hence, it is a delicious as well as a healthy snack at the same time.
Back to the super delicious meal of fried fish bites! 
Ingredients
The following ingredients are required to make 4 servings of fish and potatoes (side dish) recipe:
Fish Ingredients:
Thick-white fish fillets, 4 pieces (7 ounces)
Salt according to taste
All-purpose flour, 7 tablespoons
Black pepper, 1 pinch or more if you like
Dark beer/any carbonated drink, 1/3 cup
Sparkling water 1/3 cup (cold)
Corn-starch 7 tablespoons
1 teaspoon of baking powder
Potato Ingredients:
We need the following ingredients for making chips:
1 kg peeled potatoes
A bowl of chilled water
1 liter of vegetable oil for frying both the fish and the chips.
Fried Fish Bites
Moving further, we will now explain the making of the fish and chips:
How To Fry Crispy Fish?
Take 5 tablespoons of all-purpose flour in a large bowl. Now add corn-starch and baking powder to it. Add salt and black pepper for seasoning
Now take a fork and mix the ingredients very well. whisk continuously and add the beer and the sparkling cold water to it. You have to make a thick and smooth batter with no lumps. Next, keep the batter in the refrigerator for half an hour to 30 minutes.
While waiting for the batter to get settled, you can make chips. For this, take the peeled potatoes and cut them in slices. Make one inch thick and around one-inch-long slices. Further, put the sliced potatoes in to the bowl of chilled water and then take them out. This will remove the excessive starch.
Now put the chips into a pan containing cold water. Put it on the stove and boil gently for not more than 5 minutes.
Drain using a colander and dry with a paper towel. You may also refrigerate them until needed.
The next step is to dry the fish fillets using a paper towel. Add salt and black pepper both according to the taste.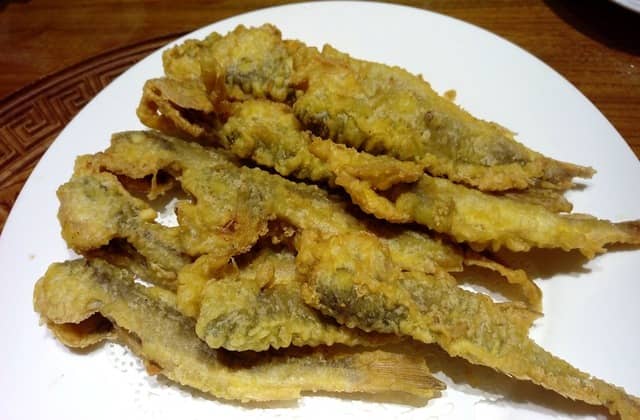 Recipe For Cooking
You can fry the both in the same pan one after the other. But the pan must be deep. Furthermore, you can also use deep-fryer.
How To Cook Fries?
Heat the oil to 350 F. cook the potatoes for around 2 minutes. However, don't brown them. Now remove them from the oil and keep on one side after draining the excessive oil.
Take a shallow bowl and place 2 tablespoons of flour on it. Throw the fish fillets in the flour and then shake off the redundant flour.
Dip each of the fish fillet into the batter. Make sure to coat the entire fillet completely.
How To Cook Fish?
Heat the oil to 350F. Put the fillets into the hot oil with great caution. Fry them until the batter is crisp and golden. To add on, turn the fillets timely so that they get golden-brown evenly.
Once you are sure that the fillets are cooked, remove them from the oil. Place them on a paper towel to absorb the extra oil. You can also sprinkle salt if you like to. Then cover with a piece of parchment paper.
Heat the oil to 400F, put the chips into the oil until they are golden and crispy. This will take approximately 5 minutes. Remove from the oil and make sure that you drain the extra oil by placing on paper towels. Sprinkle a little amount of salt.
Most of the chefs however prefer haddock fish. Check out top 5 fish recipes:
What To Serve With Fish?
The crispy, delicious, mouth-watering fried fish bites recipe is ready to serve.
Seafood Sauce
You can serve it simply with ketchup or with the following condiments:
Lemon cream sauce
Salmoriglio sauce
Parsley sauce
Malt vinegar
What Sides Go With Fish?
Cooking Hacks:
We find it worthy to share the following tips with you:
It is better to use fresh fish. However, you can also use frozen fish.
It is not compulsory to use beer. You can take any carbonated drink instead.
Measuring the oil temperature prior to frying is a must.
When creating your next masterpiece in the kitchen, a good tip is to have all your ingredients in one place. You may want to even measure everything out ahead of time, and have all your utensils at hand, as well, so it isn't a mad dash from one part of the kitchen to another just to find something you need or forgot. Timing is everything when cooking several courses.
Always use the freshest ingredients you can find for your cooking. Fruit, vegetables, meat and seafood all taste better when they are fresh. Besides better taste, fresh ingredients are usually healthier than pre-packaged, canned or frozen ones. Fresh foods have superior nutritional content and lack the unhealthy additives found in packaged foods.
Wrapping-Up
Cooking has evolved over time, from simple and humble beginnings to great culinary feats. This evolution results from the sharing of ideas and knowledge. Using the knowledge and ideas shared for the fried fish recipes, you can increase your seafood cooking skill and evolve into perfect dishes.
Updated top articles: